Future Cities
42 Articles and Interviews with Investors, Startups and Influencers.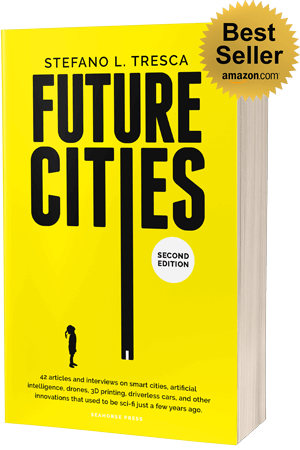 About the Book
---
Future Cities is a collection of articles and interviews about smart cities, drones, 3D printing, artificial intelligence, driverless cars, Internet of Things and other innovations that used to be sci-fi just a few years ago.
★ ★ ★ ★ ★
A looking-glass into the future.
Amazon USA
★ ★ ★ ★ ★
Reads like your favourite magazine.
Amazon UK
★ ★ ★ ★ ★
A must have for every startup.
Amazon Italy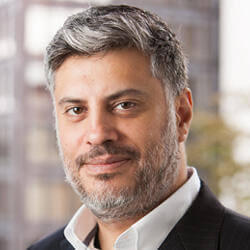 About the Author
Stefano L. Tresca was employee #8 at Wind, a telecom and internet company sold for $12.1 billion.Today Stefano serves as a non-exec director and advisor for crypto funds and blockchain companies.He has founded the Impact in Tech Foundation, and he's passionate about improving financial inclusion through technology, impact investing, and education.Many years ago, he fell in love with the city of London, and that's where he lives now when he's not traveling.Feel free to contact him on Twitter or LinkedIn, or check his Website.
FREE CHAPTER
Smart Cities, Driverless Cars and Exponential Growth. Welcome to the Near Future

By Stefano L. Tresca
Which road do I take? She asked.
Where do you want to go? Responded the Cheshire Cat.
I don't know. Alice answered.
Then, said the Cat, it doesn't matter.— LEWISS CARROLL (ALICE IN WONDERLAND)
By 2030 nearly 70% of the world's population will be residents of a city. That means 3 billion more urban residents in just 30 years.Our generation is destined to witness an incredible number of new cities and buildings being built to host our new neighbours. Once these cities are built, they won't be built again. And they won't be easily changed either.For good or ill, we'll be forced to live in our creations for a very long time. Do it right, and we will provide great quality of life to ourselves and to our neighbours. Do it wrong, and we will condemn ourselves to a miserable existence: endless hours of commuting, loneliness, pollution, disease, crime, stagnation.Technology is already playing a major role in this scenario. In the last four years I've met more than 120 companies developing new technologies for our cities, and I've shared some of their stories in this book.
WHERE IS THE MONEY GOING?
Cities already provide 80% of the global GDP, and this share is destined to expand in the near future.Consider just one market – the Internet of Things (IoT). The financial opportunities around smart buildings and cities are estimated to be worth €234 billion ($260 billion), 40% of the entire IoT budget.As a comparison, the manufacturing industry, with all its robots and technology, will be worth just €17 billion, less than 3% of the IoT budget.In my job I have the opportunity to meet investors and public officers. I've asked each of them where they think the money will be going, and shared their answers. Some of the responses may surprise you.
THE BEST WAY TO PREDICT THE FUTURE
Driverless cars, 3D printers, artificial intelligence and digital medicine are going to change the status quo. The rise of the sharing economy is speeding up the process. These changes are already happening without the help of governments – sometimes despite the government.Search for "Exponential Growth" on Google and you'll notice a dramatic increase in the number of documents and videos uploaded. The interest in exponential growth is – well – exponential. Because we live exponential growth on a daily basis.I regularly meet and mentor tech startups. Five years ago there were just one or two companies per year in this area. Now I get at least one pitch every other week. What's going to happen in the next five years?
WRONG ANSWERS, RIGHT QUESTIONS
As in the tale of Alice in Wonderland, to get the right answers, you first have to find the right questions.I've travelled to 23 countries in person, and more than that digitally through my email and Skype contacts. I don't have all the answers—nobody does—but I've collected many tools along the road.These tools may help you and me to understand current and future trends in tech and culture. It's a small competitive advantage, but in the coming days it may be essential.Enjoy the interviews. I'll be here waiting for your feedback. If you don't agree, I welcome your challenge. This isn't a one-way conversation, after all. This is a global game.— STEFANO L. TRESCA
London, United Kingdom
Images by Jai Kapoor and xkcd
Get updates on new books & discounts
We respect your privacy. Unsubscribe at any time.
A man's mind, once stretched by a new idea, never regains its original dimension.— OLIVER WENDELL HOLMES
When I step into the car, I'm greeted by a string of pumpkin-shaped lights circling the inside roof. The driver—Jeff—has a shaved head, and tattoos visible in the orange glow.Not exactly a ride everyone would accept. Well, not before Uber anyway.Jeff is a five-star driver, and his license is stored somewhere in a server. The company knows who he is and where he lives, and his car is tracked every second of every ride.When the media talks about Uber, it's all about their status as a "unicorn"—a company worth more than $1 billion—the easy app and the cheap rides. They tend to forget that the sharing economy is more than price and product.You can take a ride from a tattooed dude in the middle of the night with more confidence than any time in history. (His Halloween décor is just a bonus.)As with everything, there is—of course—a dark side. Privacy, tracking, and surveillance are giving senators a headache. Even so, the market will never go back to the old ways.The reason is not Uber. In fact, this is not a post in favor of Uber. It's not against Uber. It's not about Uber at all. This is a post about a person—Jeff—and his receipt to live in our digital age. Jeff's world is our world, he's just adapting in a different way.Taxi drivers have always been a great source of knowledge and fascinating stories to me. I have been traveling long before the advent of Uber—40 plus countries and counting—and cabs are second only to street food vendors to understand the local environment.If it's interesting to talk to taxi drivers everywhere, there's no better place to chat with an Uber driver than in Silicon Valley. Here you can find countless programmers and high-paid salaries driving a cab for a few dollars per hour.Quoting an old movie—Every time a startup fails a driver gets his wings. They don't want to get a "normal" job. They want to live free until the next Big Thing.Jeff—in a way—is no exception. He's a photographer and can make $300 in one session. But getting customers can be irregular. So Jeff drives for Uber with his entire photography kit in the back trunk, waiting for a call."Uber is great to pay the bills"—he admits.Today he'd been on the road for less than three hours. While we're chatting, he gets a message on his second iPhone (the first is exclusively for Uber)."Looks like you're my last ride for the day"—Jeff says. A customer just booked a photo shoot in one hour.In 10 minutes, we'll reach my destination in Palo Alto. With one tap of his iPhone, Jeff will switch his career from driver to photographer. He'll switch back to driver in the evening—if he doesn't have a date with his girlfriend—or tomorrow morning. One tap is all it takes.Welcome to Life in the Time of Uber.
Get updates on new books & discounts
We respect your privacy. Unsubscribe at any time.
The more you know
The more you dare— HEC UNIVERSITY PARIS (Motto)
Guo Bai is the author of "China's Development: Capitalism and Empire", an intriguing book on China's past, present and future. She's a researcher in Paris and an entrepreneur in China, working to develop the Chinese Kickstarter for equity. I'm not going to write a long introduction because you can find all the information in the interview.With 70% of the world's megacities being located in Asia by 2025, and with the majority being in China, this could be one of the most interesting interviews in the entire book.
The Interview
Good morning Guo, and welcome. Or I should say good evening, since you are probably in China, right?Yes, I'm in China right now.Would you like to introduce yourself to the readers?Okay. My name is Guo Bai. I'm Chinese, and I'm a researcher at HEC Paris (A/N one of the most prestigious business schools in Europe). I'm a firm believer that, in the future, the boundary of organizations and industries is going to blur. That means that with digital technology and the importance of big data rising, the way people work together will be changed.So right now I'm working on understanding the organizational form and structure, and how people coordinate their work and actions for complex projects such as smart cities, and that's what I'm doing right now. Before that, I have mainly been a macro-economist and I've been working on the book: China's Development: Capitalism and Empire, which tries to explain the real logic of China's reforms.And what are you doing in China, besides your research?Actually I'm working on two things at the same time. On one hand, there's my research, so I'm checking massive projects in China, trying to visit their sites and talk with their managers to try to understand how they were managed.Secondly I'm also working as an entrepreneur. I'm working on a platform to do equity crowdfunding for projects that are more related to creative design and art and promote a more innovative, creative and beautiful lifestyle.It's kind of like Kickstarter but not completely, because Kickstarter focuses more on the product side of things. And us, we'll be more focused on the startups themselves so it's more on the equity instead of the product.May I say "the Chinese Seedrs for lifestyle startups?Right. We have a very specific focus. Like, instead of rushing to show everyone early technologies and digital stuff, we want to really focus on how we use these things to change our lives. And also, we want to spread this idea of crowdfunding to help people who are interested in other aspects of life such as art, design, food, and drink. And also, we do not only focus on Beijing and Shanghai and those very large metropolitan cities, but we spread this idea to local cities such as the second, third, or fourth tier cities in China.Equity crowdfunding based on communities could work very well. I've done quite a few crowdfunding projects myself—both reward and equity based—and having a community is probably the most powerful tool for a campaign.So I guess, if you only accept projects that are going to improve their local communities, on one hand they can launch faster, because they are local, and on the other hand the entrepreneur may be already well known and trusted. This definitely helps.That's exactly what I'm trying to do because nowadays equity crowdfunding is a very hot topic in China. Very hot business, but mostly people are still doing what traditional VC funds were doing. They were focused on very specific industries and they're looking for really high-return projects in the short term. But I think it's a very powerful tool, as you just mentioned, to really mobilize communities. And that's the beauty of the Internet and that's the beauty of crowdfunding, and we want to realize that aspect of it.Indeed targeting a single community is probably under estimated by entrepreneurs. When I work with someone on a crowdfunding project, they all want to be published in the Financial Times or TechCrunch, and sometimes they don't realize that an article on the home page of TechCrunch stays there probably only for a couple of minutes because there are so many other articles. While an article on an average sized blog in their product's niche could generate many more sales and loyal supporters.Yeah, bingo. Great minds think alike then. I totally share your view. Eventually if this platform really attracts a lot of attention it could make the front page of the Financial Times, but that's not our purpose. Our purpose is really to mobilize the local communities and to really, not only attract people's attention, but to do things that really can help people's lives. Directly. That's exactly why our platform is very different from other platforms.This focus on people is the reason why I call our area "future cities" and not "smart cities". I'm interested in anything that can improve our lives in the future, not just buildings and infrastructure. In other words, if we focus on the cities, we may end up with buildings full of gadgets and still have a poor quality of life.On the contrary, if we focus on people, quality of life comes first. Sometimes we don't need expensive technology to improve those lives, maybe we just need to use existing technology in another way.In China, we have a similar trend. We have already hundreds of programs actively applied to the Ministry of Housing. I guess there are around 300 of them already. And there are, I guess, thousands of unofficial ones but also carrying the name "smart cities".But most projects are mainly related to infrastructure and not enough of them are paying attention to the human side of things.Also many of these projects want to achieve ground-breaking changes, and it requires a long period of time. But really, sometimes integrating what we already have under the same umbrella is already very helpful and it may provide faster results.
I would like to talk about your book and what's happening in China. Together with Michael Aglietta you wrote a book called "China's Development: Capitalism and Empire".Besides the questionable high price chosen by publisher, this book is a must read. Cities and megacities are moving East, in particular to China and India. So understanding what works and what doesn't work in China, is a key to understanding our future even in the West. The book is not just about cities, but about every aspect of your country.What is the hottest topic right now in China?Okay. Well, the book actually has three parts and only the third part deals with the future. But I think the three parts are closely related to each other. You can see that the first part of the book really deals with China's history. The reason we go so far back into the past is because we believe that China has a very specific state formation process.We are a country that has been united for thousands of years, relatively without foreign invasion. So the whole country, both its political logic and people's mentalities, is quite inward-looking. We have long realized the importance of administration and we really want to keep the country united, and offer access to the basics to the whole population.And that leads to the real logic of Chinese reform, which is really not a result of any kind of doctrine, such as a planning economy or Marxism or the Soviet model. But a process of adjustments to keep this country united and keep providing the people with some basic welfare – that also is the basis actually for the political legitimacy of the regime.With this kind of very specific state formation process and history, we have a country that is very rich in community culture. I should say, the country has been, for thousands of years, self-organized at a local level. So all these communities, actually they carry a lot of the functions that used to be carried outside China by other institutions such as the state or companies.That, nowadays, is very interesting because if we talk about smart cities and smart neighborhoods, they are based on a new form of community that encourages a lot of civic participation from everyone. Such kind of participation actually has a very long history in China, and it's very popular and strong.So this book is not particularly a book about cities, but about China's reform logic and what is going to happen in China in a macroeconomic and a politico-economic sense. But it is related to cities in this way. Chinese people are very used to self-organization, are very used to a community way of thinking, and are very used to, and are good at, a community lifestyle.So our Chines culture is not only very beneficial and interesting for developing local communities, but also for developing a new form of political regime that is a new type of democracy which is more participative, more based on a civic society, instead of a representative way of choosing who is going to have the final political power.So this, I think, is something that directly relates my book to the idea of cities, especially smart cities.So your idea is that, if you add technology to Chinese culture, that is already open to self-organization, then this technology may be way more effective there than outside China. In other words, the impact of tech could grow exponentially if implanted in the right culture.If your idea is proven correct I see an important consequence. China will become the global beta tester for smart cities. Tech will be tested in China and then exported to the world, inverting the actual trend where tech is developed in Silicon Valley and in the West and then exported to Asia.Right. I totally agree with you and that's exactly what I've been observing. In fact, I just spent last several months in Boston and in other cities in the United States, and we can already observe China's role.Of course, nowadays, you (A/N the West) still have a lot of good ideas, good concepts, good technology. But if you're talking about the application of these technologies, we can see that execution in China is nothing less remarkable than anywhere else in this world. For instance apps like WeChat or WeBlog are remarkable.They have already, I won't say replaced, but really have significantly challenged the traditional way of doing media, advertising, how people self-organize; all these aspects. So I totally agree with you. This cultural heritage and modern technology, the combination of these two will transform this country completely and will make China a leader in future centuries. I'm not saying in a general sense, but more in the application of these products, and also in the way of organization.I see a glimpse of the Chinese optimist here. I've been working with China since 1996, and you have always been incredible optimistic about your future even when China was not yet recognized as an important player by the West. I remember backpacking China for a couple of months in 2000, and many of my colleagues were asking "If you are interested in business, why you don't go the United States or Germany?"So at the time, many in the West didn't think of China as a major player in the international community, but all my friends in Hong Kong, Shanghai, Beijing had no doubt about the upcoming importance of their country.And this trend is so clear nowadays. I'm not going to use the term "superpower" because this has too many geopolitical connotations, but I'm really seeing this country jump forward, that's for sure. We are not just going to be followers or learners anymore. There are going to be aspects in all areas in which we are going to be the innovators, or the pioneers instead of just the followers trying to catch up.So Guo, you are a researcher but also an entrepreneur. If you had 10 million to invest in a startup, and it cannot be your startup, what area of future cities tech would you pick?I would still pick business concerning smart neighborhoods. By smart neighborhood, I mean how to change the relationship among people. For example, ideas related to a shared economy would be interesting.Nowadays in China, you have very interesting apps for hiring a cook; whether a professional or not, who will come to your family and help you cook, either for yourself or for a group of friends. I feel these kinds of applications really change the relationship among people, really change the scope of the people you have contact with.And they also change the way you socialize, network and the way you live. So I think these kinds of things, related directly with the management of the neighborhood directly with human relationships, would be the project that would be interested in the most.I like this answer for a specific reason. Smart cities tech can be very slow. Dealing with bureaucracy can be a very long sales process. So if you develop a new transport system or a new energy system that is revolutionary, it can take years before it's implemented and you change the life of the citizens.On the contrary, if you start providing a service at a neighborhood level, at the bottom, the execution could be very fast. There is no bureaucracy at the bottom.Exactly. And also, providing services at the bottom is not only economically viable but also I feel it can put pressure directly on the top, for instance on the mayor, to change other systems.Because when peoples' way of life is already changing, then they demand different means of transportation, buildings, and energy. And that's actually a very good place to dig into the issue and force the government, force the officials, to re-think about what they are doing. And then help them and force them to also change the way they manage energy, transportation and other aspects of urban life.Also these apps, because they focus on a Chinese neighborhood, they can be tailored to a specific lifestyle. I'll give you an example. There is a sort of Uber in China that empowers the customer to call a taxi.Nothing special about that but what I found amusing with this app, was that when someone else has booked a taxi, you can offer a tip and "steal" the driver from another customer. Basically if you are in a rush or it's raining, you could outbid another customer.Such a feature is never going to work well with customers in the United States, I think, but it could work very well in Mumbai or in Rome.I have another anecdote about Uber in China, which is very funny. Also somewhat of a Chinese characteristic is that they think Uber is a direct competitor of social media platforms like Facebook or WeChat, because it's actually an excellent way for people to meet each other.So a lot of the Uber drivers I have met in China spend only a few hours driving, because it's not their real job. Their primary goal is to meet new people and make more friends, or even potentially girlfriends or boyfriends. I found this idea very, very funny and very Chinese. It also shows how people are very used to this idea of socializing, meeting people: community.You definitely know this; you've been to China so many times and have known China for such a long time. If you go to China's parks you can see all these old people. They have self-organized these singing groups, dancing groups, whatever. All these are signs of that demonstrate how this country loves self-organization. And with technology, it just brings it to another level.I found this story about Uber as a dating app so fascinating that I want to know more. So what you mean is that, some people in China who already have a job and make the same amount of money of a Uber driver, or a bit more, at some point in the day, they stop their full time job, to go out and be a Uber driver so they can meet new people and maybe the love of their life.Indeed. For example, there is one Uber driver I met. He's the client relationship manager of a big company, and he needs to get out of the office often to meet their clients. Between these meetings he has some free time. So instead of sitting in the office, he prefers to use this time to drive around, and meet more people. And that's why he became an Uber driver.I'm not sure if other people are sacrificing their time, but are more like using the gaps of the time they have to get out and to be more human-oriented instead of sitting in the office and handling the paperwork. And that's what I observed.So we have to tell Uber that they can become a dating app in China.It already is [laugh].Do you know how many Uber drivers found their girlfriend or wife driving people around?I don't know the statistics on that, but there are many rumors and people are talking about how huge a threat Uber actually is to dating websites [laugh].
When I interview someone about Future Cities I often ask if they think that technology will improve or reduce the gap between poorer and richer countries. You have already replied to this question. China is not a poor country but because of the size of its territory and population, it's hard to provide a high quality of life to everybody. Based on your information, tech is reducing the gap between China and the West.Well, I guess it's very difficult to give a general answer saying that the gap is for sure going to enlarge or to shrink. Because it really depends on whether the country, for instance, a developing country such as China, has the proper infrastructure and institutional background that allows this catching up. But that's just a general comment.I do believe that tech can be expensive, but what tech really does nowadays is to bring expensive things down to a more affordable price. So there's definitely a chance. I can't guarantee that it will, for sure, shrink the gap between the developed and developing countries, but there is a chance. There is also the chance it will achieve that. And that's exactly what we have learned in China – we are catching up. Inequalities among different localities are also shrinking, thanks to these technologies.What I see is that, with those technologies, information spreads much faster than ever. I'll give a very concrete example. Let's take education, for example. It's not just about whether you have a good teacher or not. It's not just about educational resources. Sometimes it's about information. We all know that good universities have scholarships to help poor families, poor kids. But so many poor families and poor kids do not even know that those scholarships exist. And with technology, they can capture this information much easier.Also, they can go on free courses online and have a better chance of self-education. So all these are really, I think, are very positive improvements and I can see that they are going to be tools to help close the gap between the poor and the rich. And that's my comment.And one of those tools is going to be your crowdfunding platform.I hope so.What suggestions would you give to someone that wants to do something with China, not necessarily business? Especially someone who is not a top manager.Well, in my mind, I think they don't need to do anything special. What I mean is, it's that China is not this purist country anymore. So basically they just need to be really good at what they are doing and bring this expertise to China.Buy a plane ticket, do not hesitate, do not heed all the stories they have heard about in China in their own country. Buy a plane ticket to come, learn the language, and then just deal with this world and their business as normal, in the same way they would, or should, do in their own country. And that's how you should do business with China nowadays.In the '80s or '90s it was different. If you came at that time, you would see a country that was completely lagging behind. You brought to China whatever advanced product or service you had in your country, you traded, and then you were successful.That age has already passed. So really they have to understand this and really try to build up their own expertise. Try to think about what they can really offer to this market, and then learn the language, be friends with the locals, with the Chinese. And that's the way they should do it.Would you suggest a specific place to start? Because your options are not limited anymore to a few cities like Shanghai or Hong Kong.There are many cities that come to mind. I would suggest cities in the center of China such as Wuhan, or in Sichuan province like Chengdu, or anywhere actually. It depends on their Chinese level of course, but if they really want to learn the language and learn the culture then they should consider those cities that are more towards the interior of China instead of Beijing and Shanghai where they tend to hang out with their friends from the same country.Really they should take a backpack, like you did several years ago, and travel the country. They should just look and listen and experience and feel by themselves, and then they would decide because China is so broad and so diverse. I guess everyone has different tastes. So taste it and then decide.Indeed something that foreigners don't realize until they go to China is that the north of China is more northerly than Denmark, and the south of China is more southerly to Dubai.So they tend to think of China as a country like others, but it's almost a subcontinent in a way. And the cuisine so different, and the people can be very different, although they all have a something important in common. So I agree with you, for someone that wants to do something in China it would be extremely helpful, and enjoyable, to spend a few months traveling around and then eventually picking a place that they like, or a place where they meet people that they like.In my case, I was extremely, extremely well-treated in Nanjing (A/N the old capital and a university city). Although I didn't plan to stay there for a long time because there are probably cities that are more suitable in which to do business.But there is more in Nanjing than business. It's funny because I have a friend who has just opened a very good French restaurant in Nanjing. The business has been hugely successful, and I just visited Nanjing last week and it was fantastic to see. People there are still very nice. And the city, as you said, maybe does not have too many special features but altogether is very agreeable; a very lovely city to live in.Actually my train reached Nanjing late in the evening, I had no hotel booked, there were no smartphones at the time, but I was invited to sleep in an apartment belonging to the military college by students I met in the street.And also what you have just mentioned, to be invited by strangers you met on the street to their home, it actually could happen everywhere in China. Because Chinese people are quite curious and they are very natural with close human relationships.That's for example, the reason for the dating feature of Uber in China, and also why we think community, and especially smart communities apps, have very good potential in China. It's because of this natural closeness with human relationships, I believe.And what you have just described, I also have experienced with my foreign friends in China in different areas actually. There was one in Beijing, one in Sichuan; they all had very interesting experiences.People who have just met you and are so happy to meet you and invite you to their family, remain friends, keeping contact for years after. This is just another piece of evidence that shows that China is a country with very long traditions of community and Guanxi in a general sense.It's probably easier in a university city like Nanjing and in big cities because so many of the students speak an okay level of English, with some being very fluent. While when you backpack the interior of China, people can still be very friendly but it's difficult to communicate because at least at the time, it was very hard to find English speakers.Do you want to add something to close this little chat, or we call it a day?Well, maybe a general message. I'm really a firm believer that all this technology, Internet, big data, these things are not just for business. And these things are not just technology. They are going to change profoundly the way we organize our activities, the way people relate to each other, and they are going to significantly change what we can do as a group, as a race altogether. We're in this work for this work. So, well, fasten your seatbelt.
LINKS
1. China's Development: Capitalism and Empire
(Rethinking Globalizations)
by Michel Aglietta and Guo Bai
http://amzn.to/1HSRgT52. HEC Paris – Business School
http://www.hec.edu
Images by Yuya Sekiguchi, Drew Bates and Gags9999
Get updates on new books & discounts
We respect your privacy. Unsubscribe at any time.
In a globalized world, the problems of the poor today can, tomorrow—through migration, terrorism, and disease epidemics—become the problems of those at the pyramid's top.—RICHARD HEEKS
EAST WEST EAST
In 1950 there were only two megacities, metropolises with a population of over 10 million; London and New York. That world is gone. In our brave new world, the megacities are growing in number and at the same time they are moving East. It is estimated that by 2025, there will be about 40 megacities, out of which 28 will be in Asia, and only 5 in the West (London and Paris in Europe; New York, Chicago and Los Angeles in North America).It's not just a matter of the number of megacities, the population is also slowing down in the West. European and North American megacities are estimated to grow less than 3% per year, versus twice this rate in Africa (Lagos and Kinshasa).This is not something that will take place in the distant future; in fact, it's already happening. Of the top ten cities in the world, just one— New York—is in the West, and it ranks only in 9th position.London is further down the list in 32nd position. However, with the massive growth in the financial and technological sector, the city is expected to increase its population by more than 25% by 2030.China will soon be the leader in this game, with the relatively unknown Pearl River Delta to become the biggest megacity in the world. With a gigantic urban area of 16,000 square miles, the Pearl River Delta will be twice the size of Wales and 26 times larger than London.
BACK TO THE FUTURE
For most Westerners it is difficult to fathom that their cities are losing the spotlight, in fact, this is nothing new. From a historical perspective, the West has been the land of big cities for only a small parenthesis of time.Beijing had reached a population of one million by 1775, which London reached only in 1825. Baghdad was acknowledged to have reached a population of one million in 925, and Rome by the end of the 1st century B.C. You could argue that Rome is indeed in the West, but this is not strictly true. Western culture was born in Europe with the industrial revolution, and the culture of ancient Rome does not exist anymore.
IT'S (NOT) THE TECHNOLOGY, STUPID
There is a common question in the startup ecosystem: why are people moving to the cities when they have technology and gadgets that allow them to work from a beach?The first wave of urbanization that took place during the industrial revolution is easy to understand. Factories need people and people appreciate the stable source of income provided by a salary. In the rural areas farmers were subject to famine and instability.This is not true anymore. Today we can work online while sitting in a farmhouse where the cost of living is just a fraction of what we would pay in a city. Still, cities are growing. Technology writer George Gilder wrote in 1995 that "Cities are leftover baggage from the industrial era". He predicted that in 10 years, we would have the technology to abandon the cities. Gilder was right about the technology but wrong about everything else. Instead of shrinking, London is growing bigger and richer because of technology.The reality is that technology has become so sophisticated that it can be easily used by anyone , but it is unlikely to be built by a single individual. Think about the video game. Back in the '80s it was possible to build a successful company in your garage. Today you'd need a staff of programmers, designers and story tellers to have any chance at competing in the market. If Leonardo Da Vinci was born today, he would probably be the CEO or CTO of a startup.
EVERYTHING IS A SOCIAL GAME
This level of sophistication requires an appropriate ecosystem to exchange ideas, find skilled human resources and meet investors.The progress of a city is not just a technological competition, but a social one. Of the 100+ startups that I interviewed, those who are based in London, or who want to be in London, mentioned the vibrant international community as one of the top 3 reasons why they have relocated or would want to relocate here. A great community is the reason behind the success of Berlin, New York and of course Silicon City, the latter of which is further helped by a beautiful beach and fantastic weather. We can do business in front of a computer, but we start that business in front of a glass of wine, pitching to a partner or an investor.
THERE IS ONE MORE THING
The megacities in the developing world presents the same catalysts, plus a few others. An example is the leather industry that flourishes under the tinned roofs of one of the biggest slums, Dharavi, in Mumbia, India. The concentration of the work force in the same area reduces costs and provides a massive resource for training on the job. A farmer moving from a rural area to the slum can find someone who can teach him to work with leather in a matter of hours.In an ideal world there would be no space for these slums, but in our world they are a reality. This is where technology could (and should) have a direct and large impact to improve the quality of life.
THERE SHOULD BE A BETTER WAY
Steve Jobs was famous for approaching any problem with the phrase "There should be a better way". This approach built one of the most successful companies in history. The same approach could be even more effective in the poorer areas of a megacity. An iPod can improve your life with music; smart city technology can save your life by providing clean water or health assistance.ACCESS health built a system of smart ambulances that have reduced infant mortality by a factor of 5x. Guo Bai—one of the interviewees in this book—talks about developing smart neighborhoods and pushing the changes from the bottom to the top. Cities and megacities are the hottest thing to follow in the next five years. It's not just a matter of cold, hard numbers. The most fascinating thing will not be about the number or the location of megacities, but watching how technology can improve the quality of life for such a large mass of humanity concentrated in the same place. After thousands of years, we finally have the technology to make something truly useful. Hopefully we will not mess everything up as humans so often do.
LINKS
1. Interactive map by McKinsey&Company
http://bit.ly/megacities-McKinsey
2. Interactive map by The Guardian
http://bit.ly/megacities-guardian
Images by Júlio Boaro, Luke Ma and Edge Earth
Get updates on new books & discounts
We respect your privacy. Unsubscribe at any time.
You can't have a good "what" unless you have a good "why." So if you're not sure why you're doing it, then the "what" (the company) will often be flawed.— ADEO RESSI
If you are part of the startup community, it's very unlikely that you haven't heard about Adeo Ressi. He sold his first company—Total New York—to AOL before graduation. Eventually this first company growth so fast, that "it just was impossible for me to even consider finishing graduation." he said. After that, Adeo started a second company, and a third one, and he hasn't stopped since, even co-founding a space company with Elon Musk that eventually led to Space X.In the end, he never went back to college to graduate, aligning himself with a long line of famous drop outs, from Steve Jobs, to Bill Gates, to Richard Branson. As he said, "That company became very, very successful very, very quickly. So, it just was impossible for me to even consider finishing graduation".When the startup community was hit by the crisis of 2008-2009, Adeo decided to start the Founder Institute, a pragmatic startup accelerator based on a simple philosophy: helping the economic recovery by lowering the high failure rate for startups. In his own words, "about 25,000 businesses were started every year by passionate and committed people. And north of 95% of them would fold or die."The program was indeed successful and soon the goal of the Founder Institute became to "globalize Silcon Valley". Today the institute has a presence across 50 countries, from Vietnam to Columbia. This environment brings some curious consequences even outside the business. Last time I enjoyed a barbecue hosted by the Founder Institute in Palo Alto, I seat on a table with colleagues from France, the Philippines, Iceland and Afghanistan (yes, they have a team building a startup ecosystem over there).I've a sort of conflict of interest in this interview. I'm a mentor of the Founder Institute myself, and part of Expansive Ventures, their investment syndicate. I had to find a formula for an impartial interview, that's why in the interview you will not find any questions about the success of the Institute.No matter my opinion, Adeo has been part of Silicon Valley since the mighty '90s, has started over 10 companies and a global community. I am sure you will get useful insights.
The Interview
In this book, I had a chance to interview entrepreneurs and influencers from different countries, and they all brought their different angle. You on the other hand run the Founder Institute with a presence across 50 countries. You can give us an overview of the global trends better than anyone (and with "global trends" I mean politics, investments and/or startups – pick the one you prefer).Well, I can sort of give you trends in each category, and that might be most useful.So on the governmental side, governments around the world are becoming quite proactive about helping companies, some of which is good, some of which is bad, but at least they are trying, which overall is good.So for example, France just launched a startup visa program similar to what Chile is doing. Similar things are happening in Canada.Pretty much every credible government around the world is taking a variety of initiatives to improve the likelihood of startup success. We have just done some longitudinal studies of our graduates and learned that if a company achieves a great amount of success and progress in the first 11 months of existence, the likelihood of that company succeeding increases five-fold.So if a government is providing a variety of resources and a variety of programs to help startups, that essentially is helping those startups achieve milestones faster. The data indicates that's a good thing, though I do believe there is a variation in the quality of different programs. As I indicated, some programs are good, and some programs are less good, if you will.In terms of the funding landscape, I think you're seeing a massive proliferation in funding accelerators and company-builders. For the most part, there's also been a bit of a consolidation happening as well, but the net result is that more and more of funding incubators and more and more company-builders that provide capital are popping up all around the world. That, too, is very beneficial because it's very difficult to raise money at any stage. The angel and early-stage is the hardest of them all. Right?So angel capital is the hardest amount or the hardest type of capital to raise. Series A is definitely also hard, but a lot easier than angel. Series B is, again, also hard, but a lot easier than a series A. So the proliferation of funding accelerators that have investors sort of locked in, in demo days and many different programs that almost act like they're finishing school for a startup to get their product in good shape and start fundraising, the proliferation of these types of programs is ultimately beneficial for startups because it's just increased the number of startups worldwide that are getting funding.Probably on the company side, there you have a lot of mixed stuff going on. You have a lot of people entering startups that probably should not be doing so. Startups are sexy and cool right now, and that's drawing greater and greater numbers of people to do startups.But a lot of times, people who are entering the field of technology entrepreneurship, I call them "tourists", want to come and see for themselves and feel the freezing cold temperature. Then once they do so, they're like, "Oh, wow. That's great," and they go back to their day job.I think that there's a trend of an increasing number of tourists entering technology entrepreneurship. As a result, you're seeing a lot of people leave the field very quickly, and that's creating some challenges for everyone at every level in the ecosystem. Because everyone wants more stable entrepreneurs. Because more entrepreneurs means that there can be more funding accelerators. More entrepreneurs means that there can be more success stories and more capital available..Well, this is a common phenomena everywhere. Many wannabe founders have a day job—and that's perfectly fine—but some of them have no intention of quitting their job anytime soon. Their startup becomes a sort of side activity, and as a consequence, the percentage of failures becomes very high. This high percentage of failures discourages future serious potential entrepreneurs. Moreover, it becomes harder to find a good CTO and other professional figures
.Part of the reason it's very hard to find those people is because technology entrepreneurship, to date, has been not very sexy. So on one hand, making technology entrepreneurship sexy is good because more people will quit their jobs to do it, but the negative of that is there are also an increasing number of these tourists, which are here by day, gone by night.Any entrepreneur that has achieved success in their life can tell you that you need to dream big and die trying, in order to succeed. It's not something that you can just try on, like a suit in a mall. You need to really give it your all. You have to try with everything that you have. Otherwise, you're going to fail.So anyway, it's not something you just try on and be like, "Oh, that was cool." You really need to give it your all. So I think that's one of the challenges for all the programs out there today, whether it be programs that try and inspire people, like Startup Weekend or the Startup Grind conference series, or programs like the Founder Institute that train people to launch businesses.We have a duty to try and convey the seriousness of the task at hand, in order to ensure that the next generation of entrepreneurs are actually not tourists but, in fact, serious participants.
.What area of tech and business do you think are going to be most interesting over the next 2-5 years?
.Look. There's stuff that everybody is talking about, but it's not clear that they're going be big. Then there are some things that people aren't talking about, that are already big.So for example, everyone's talking about IOT (Internet of Things). That sounds great, and I do believe in IOT for sure, but the problem is people don't go and buy new refrigerators every month. They buy them once every two years. People don't go and buy new locks or lights every month.So I definitely believe that there's going be a big Internet of Things movement, but it's going take a long, long, long, long time for that to come to fruition because the replacement of these devices have quite long timeframes.I've lived in this house for six years. Not only have I not replaced any of my appliances, but I don't foresee replacing them any time soon.So it could be, in some cases, many, many years before an Internet of Things refrigerator comes along. By the way, Intel has been talking about the Internet of Things since as long as I can remember, certainly 2000-2002. I went to the Intel CEO's summit at the time, and they were showing off the house of the future. It had basically all Internet-connected devices.Definitely Internet of Things will be big. I'm just not sure about the timing.Conversely, there are some businesses that are already very large, like basically all of finance. The truth of the matter is that this is a massive industry that has had little or no disruption happen to it, to date.You still have a bank. You go to your bank and make deposits. You make withdrawals. The last large-scale innovative banking switch might have been PayPal. Now PayPal is sort of looking to spin out of eBay.Banks and finance control a large area of our lives. So it's already a multi-trillion-dollar-a-year business, covering everything from retirement planning to investing to everything in between. It's supporting small businesses and loans, everything. It's really had little or no innovation in a long time.So you're seeing a large number of startups go into what is classically referred to as Fintech (financial technology), and you're seeing multi-billion-dollar companies get built in 24 months, but that's because the entire financial services industry is in the trillions of dollars.
.There is also a big interest from investors. I'm based in the financial area of London, and I can say that from the end of 2014, the investment in Fintech has gone through the roof. Probably at least half of the money raised for startups this year was raised in Fintech.
.Well, you're starting to see that. Exactly. So that's because you have a number of companies around credit and other financial activities over in Europe that are growing at incredible speeds, making a lot of money doing so.Basically banks have become so complacent, that they open themselves up to veracious external competition through zero-interest savings accounts. That's ready for disruption, for sure. You've got very high fees on various types of transactions, whether it be moving money or lending money. They can do that because banks are a very small set of competitors that provide very limited service.But we're talking, still, about trillions of dollars in market size. So it's just inevitable that there's going to be a massive amount of disruption in Fintech.
.I have one last question. Actually I have many questions for you, but we'll chat another time. The last question is "What's the one advice you would give to a young person that wants to enter the startup world?" or even better "What's the one piece of advice you would give to your younger self?"
.Look. I can actually, quite confidently, say that I did not have an easy entrepreneurial journey. Entrepreneurship is hard, so I'm not unique. Despite how hard it was for me, I was lucky that I basically had mostly success.So what I would say is that the most important thing for a new entrepreneur— I wouldn't say young, I would say new—is to understand that being an entrepreneur is a process of self-discovery.If you can start that process in parallel or even before you start becoming an entrepreneur, that's a good thing.Essentially what you're saying is, "Hey, I'm going to dedicate almost the entirety of my life's energy to a certain vision that I have of the world."If you're not clear of what your vision is, you're going to mess up. So I like to say that you can't have a good "what" unless you have a good "why." So if you're not sure why you're doing it, then the "what" (the company) will often be flawed.A lot of times, things that sound logical don't necessarily mean that they are right. For example, I started a space business with Elon Musk that eventually became Space X. I started a video-gaming company that we sold to RealNetworks (A/N Game Trust exited in 2007].Now I think space is totally cool, but just because I think space is totally cool doesn't mean that space is what I want to do with my life's energy. Just because I think video games are totally cool doesn't mean that I should be running a video-gaming company.Sometimes things that seem obvious are not. Everybody thinks space is amazing, and I'm excited to work with space. But what happens if once you start working in a the daily routine, you realize, "I really don't like space"?If you don't like the "what", you can still work hard until you succeed if there is a "why". So it's more a matter of why are you doing this? What's your big vision of the world? What's your big vision for your life, this process of self-discovery? When you go through this process of self-discovery, the business that you eventually pursue should align with your own vision of the world.
LINKS
1. The Founder Institute
http://fi.co
2. Space X
http://www.spacex.com
3. Game Trust
http://gametrust.com
4. Real Networks
http://www.realnetworks.com
Images by Anuj Biyani and Founder Institute
Get updates on new books & discounts
We respect your privacy. Unsubscribe at any time.
Cities have the capability of providing something for everybody, only because, and only when, they are created by everybody.— JANE JACOBS
I get this question all the time—"What is a Smart City?"—and I like to start with an official answer. Cities are "smart" if they cover at least five out of these eight smart parameters:1. Smart Energy
2. Smart Building
3. Smart Mobility
4. Smart Healthcare
5. Smart Infrastructure
6. Smart Technology
7. Smart Governance and Education
8. Smart CitizensThis is not the only definition of a Smart City, but it's a good place to start. Its creator—Frost & Sullivan—is one of the biggest consulting firms in this area.According to these principles, there will be around 26 Smart Cities in 2025, 50% of them in North America and Europe. The value of their market is estimated to reach $1.56 trillion by 2020.
THIS IS SPARTA!
To make sense of this cold hard number, let's imagine that Hollywood decided to make a movie set in the near future where smart cities declare independence—an era of City States such as Sparta and Athens, but with modern technologies.In this scenario, the market size of the smart cities would be the 12th largest GDP in the world, sitting above primary nations like South Korea and Australia, and double that of Saudi Arabia.
TOP 20 COUNTRIES BY GDP
United States $17.42 trillion

China $10.38 trillion

Japan $4.62 trillion

Germany $3.86 trillion

United Kingdom $2.95 trillion

France $2.85 trillion

Brazil $2.35 trillion

Italy $2.15 trillion

India $2.05 trillion

Russia $1.86 trillion

Canada $1.79 trillion

Smart Cities $1.56 trillion

Australia $1.44 trillion

South Korea $1.42 trillion

Spain $1.41 trillion

Mexico $1.29 trillion

Indonesia $0.89 trillion

Netherlands $0.87 trillion

Turkey $0.81 trillion

Saudi Arabia $0.76 trillion
The complete list by the International Monetary Fund includes 188 countries.
OFFICIALLY SMART
Having an appropriate number of parameters makes your city "officially" smart, however your life may still be miserable. From the point of view of citizens like me and you, what really matters is the quality of life.In the next five years many cities are going to embrace smart technologies. They will not be "Smart Cities"—not officially—because many parameters require the intervention of the government, and five years is a short period of time for any bureaucracy.Yet we are going to see many changes from bottom to top. Citizens will use existing technologies to organize their neighbourhoods. Startups will develop platforms and small home hardware products that have a direct impact on our lives. Your building might still be dull, but your flat could be very smart!
THE GAME
Shaping cities has always been a governmental game. Citizens can't decide to build a defense wall or a water system; this was a matter for kings and other powerful figures.This is why the official definition of "Smart City" encourages a passive attitude. We—the citizens—can't build smart infrastructure by ourselves. Our city can be smart or not. Rich or Poor. With a good transport system or a bad one. This is the world we are used to living in.Well, this bipolar world is over.The new goal is to improve the quality of life one step at a time.In business, this attitude has generated the concept of the Lean Startup. It is not simple with a city, but this is the trend. Citizens can directly impact two to three parameters of a Smart City.I'm not saying that it's easy to be part of the change; I'm just saying that it's worth it.If you ask me, "What is a Smart City?" may be the wrong question. "What smart changes do you want to see in your city?" is definitely more interesting.
LINKS
1. Frost & Sullivan
http://frost.com
Complete list of countries by GDP (by Wikipedia)
http://bit.ly/countriesGDP
Images by Whiz-ka and Sam Valadi
Get updates on new books & discounts
We respect your privacy. Unsubscribe at any time.
Once you have experienced the thrill of flight, when you're back down to earth, you will continue to look at the sky.— LEONARDO DA VINCI
Events come and go, and what is dumb today may be cool tomorrow (and sadly vice versa). So I keep an updated list on this page. If you know of an event that is not on the list, please drop me a message on Twitter or use this website. Every link counts. Thanks!
The List
(In alphabetical order)
1. Asia Africa Smart City Summit
Bandung (Indonesia)
http//asiaafricasmartcity.com/
2. Cleantech Forum Europe
Lyon (France)
http://events.cleantech.com/cleantech-forum-europe/
3. Cleantech Forum San Francisco
San Francisco, California (USA)
http://events.cleantech.com/cleantech-forum-sf/
4. Distribution Tech
Orlando, Florida (USA
http://www.distributech.com/
5. Ecocity World Summit
Abu Dabi (UAE)
http://www.ecocityworldsummit.com/
6. Ecosummit
London (UK)
http://ecosummit.net/
7. EmTech MIT
Cambridge, Massachusetts (USA)
http://www.technologyreview.com/emtech
8. Expo Milano
Milan (Italy)
Only in 2015
www.expo2015.org
9. Gigabit Europe
Munich (Germany)
http://bit.ly/gigabit-europe
10. Global Forum
Oulu (Finland)
http://globalforum.items-int.com/
11. Global Tech Summit
Helsinki, Finland
http://www.globalcleantechsummit.fi/

12. Globalcon
Boston, Massachusetts (USA)
http://www.globalconevent.com/
13. Green Build Expo
Manchester (UK)
http://greenbuildexpo.co.uk/
14. IEEE International Smart Cities Conference
Guadalajara (Mexico)
http://sites.ieee.org/isc2/
15. Industry of Things World
Berlin (Germany)
http://www.industryofthingsworld.com/en/
16. Internet of Thinks World Forum
London (UK)
http://iotinternetofthingsconference.com/
17. IoT Summit
Santa Clara, California (USA)
http://www.iot-summit.org/
18. IoT Tech Expo Europe
London (UK)
http://www.iottechexpo.com/europe/

19.iSmart
Jerusalem (Israel)
http://www.ismartisrael.co.il/
20. Kyoto Smart City Expo
Kyoto (Japan)
http://www.kyoto-smartcity.com/e/index.html
21. Liveable Cities Conference
Melbourne (Australia)
http://www.healthycities.com.au/

22. Living Future Unconference
Seattle, Washington (USA)
http://living-future.org/unconference
23. New Mobility World
Frankfurt (Germany)
http://newmobilityworld.com/
24. Nordic Edge Expo
Stavanger (Norway)
http://nordicedgeexpo.com/
25. One Globe Conference
New Delhi, India
http://www.oneglobeconference.com/

26. PowerUp
Miami, Florida (USA)
http://powerup.opower.com/
27. Renewable Energy World Conference & Expo
Las Vegas, Nevada (USA)
http://www.renewableenergyworld-events.com/
28. Smart Building Conference
Amsterdam (The Netherlands)
http://www.smartbuildingconference.com/
29. Smart Cities Asia 2015
Kuala Lumpur (Malaysia)
http//www.smartcitiesasia.com/
30. Smart Cities Investment Summit
Mumbai (India)
http://smart-cities-india.com/
31. Smart Cities Middle East
Dubai (UAE)
https://www.smartcitiesme.com/
32. Smart Cities Summit & Expo
Taipei (Taiwan)
http://smartcity.org.tw/index_en.php
33. Smart City 360°
Toronto (Canada)
Bratislava (Slovakia)
http://smartcity360.org/
34. Smart City Conference
Herzliya (Israel)
http://logtel-conferences.com/smart_city/
35. Smart City Expo
Barcelona (Spain)
http://www.smartcityexpo.com/
36. Smart City Event
Amsterdam (The Netherlands)
http://www.smart-circle.org/smartcity/
37. Smart City InFocus
Yinchuan (China)
https://www.tmforum.org/events/smart-city-infocus-2015-yinchuan-china/
38. Smart City Startups Festival
Miami, Florida (USA)
http://www.smartcitystartups.com/
39. Smart City Week
Washington D.C. (USA)
http://www.smartcitiesweek.com/
40. Smart Energy Summit
Austin, Texas (USA)
http://bit.ly/smart-energy-summit
41. Smart Home Summit
London (UK)
http//www.smarthomesummit.net/
42. SSIC - Security of Smart cities, Industrial Control System and Communication
Shanghai (China)
http://www.ssic-conf.org/
43. Sustainable Smart Cities
Bengaluru (India)
http://nispana.com/ssci/
44. The Future of Energy Summit
London (UK)
New York (USA)
Shanghai (China)
http://about.bnef.com/summit/
45. The Technology Expo
London (UK)
http://www.the-tech-expo.com/
46. ThingsCon
Berlin (Germany)
http://thingscon.com/
47. Water Innovation Summit
Berkeley, California (USA)
http://events.cleantech.com/waterinnovationsummit/
Images by Yann Caradec and Pulkit Sinha
Get updates on new books & discounts
We respect your privacy. Unsubscribe at any time.
If you don't think about the future, you cannot have one.—John Galsworthy
If you know of an organization that is not on the list, please drop me a message on Twitter or use this website. Every link counts. Thanks!
The List
(In alphabetical order)
1. ABC Accelerator
Milan (Italy)
https://abc-accelerator.com/
2. Alchemist Accelerator
Strong IoT focus
San Francisco Bay Area, California (USA)
http://alchemistaccelerator.com/
3. Alpha Lab Gear
Strong IoT focus
Pittsburgh, Pennsylvania (USA)
http://alphalabgear.org/
4. Angel.co Real Estate Angel Investors
You can use Angel.co to find investors who have already invested in real estate tech (and repeat the search for IoT and other areas)
https://angel.co/real-estate-1/investors
5. BGI / MIT Portugal
Lisbon (Portugal)
http://buildingglobalinnovators.eu/
6. Bolt Accelerator
Smart Cities is one of their areas of specialization
Malaga (Spain)
http://bolt.eu.com/en/
7. Build It
Strong IoT focus
Tartu, Estonia
http://buildit.ee/
8. Catapult - Future Cities
Not a traditional accelerator but an organization focused on supporting tech and startups in future cities.
London (UK)
https://futurecities.catapult.org.uk/
9. Catapult - Transport Systems
A sister organization of Future Cities Catapult
Milton Keynes (UK)
https://ts.catapult.org.uk/
10. Challenge Up
IoT accelerator by Intel, Cisco and Deutsche Telecom
http://challengeup.eu/
11. Cognicity Challenge
London (UK)
http://cognicity.london/
12. Digital Accelerator by Allianz
IoT, Connected Home, Fintech and other areas
Munich (Germany)
http://digital-accelerator.com/
13. Digital Greenwich
Focussed to a specific area of London, the Royal Borough of Greenwich
http://www.digitalgreenwich.com/
14. Ecci Smart Accelerator
Edinburgh (Scotland)
http://smartaccelerator.edinburghcentre.org/
15. European Pioneers
One of their areas is Smart City Services
Berlin (Germany)
http://www.europeanpioneers.eu/en/
16. F6s
A directory of acceleration programs and funds. If you are into startups, you probably already know this website.
https://www.f6s.com/
17. Fiware Accelerator
€80 million funding equity free.
http://www.fiware.org/fiware-accelerator-programme/
18. Global Cities Initiative by JP Morgan
http://www.jpmorganchase.com/corporate/Corporate-Responsibility/globalcities.htm
19.Industrio
Strong IoT focus
Trento (Italy)
http://www.industrio.co/
20. Infinity by NEST
Hong Kong
http://www.infiniti-accelerator.com/
21. InnoCité MTL
Montreal (Canada)
http://innocitemtl.ca/
22. Kraftwerk
Bremen (Germany)
http://kraftwerk-accelerator.com/
23. Level39
Biggest accelerator in Fintech and Future Cities tech in Europe.
London (UK)
http://level39.co
24. Microsoft Ventures
Microsoft Ventures is a startup accelerator for any area of business; however, Microsoft is investing big resources into smart cities projects. Microsoft CityNext provides grants and support in this area.
Worldwide
https://www.microsoftventures.com/locations/accelerators
And
https://www.microsoft.com/en-us/citynext
25. Pi Labs
Europe's first property focussed accelerator
London (UK)
www.pilabs.co.uk
26. R/GA Accelerator
Strong IoT focus
New York (USA)
http://rgaaccelerator.com/connecteddevices/
27. Smart City Accelerator
Malmo, Sweden
http://www.smartcityaccelerator.com/
28. Soul-Fi
Europe, different locations
http://soul-fi.ipn.pt/
29. Speed Up Europe
Europe, different locations
http://speedupeurope.eu/
30. Startup Bootcamp Berlin
Specializing into Smart Transportation and Energy
Berlin (Germany)
http://www.startupbootcamp.org/accelerator/berlin.html
31. Startup Bootcamp Smart City & Living
Amsterdam (The Netherlands)
http://www.startupbootcamp.org/accelerator/smart-city-living.html
32. Techstars Mobility
This uber famous accelerator has an entire branch dedicated to mobility and smart cities.
Detroit, Michigan (USA)
http://www.techstars.com/program/locations/mobility/
33. Urban Opus
A non-profit accelerator specializing 'in people data and the future of city' (plus they are based in one of my preferred cities, Vancouver).
Vancouver (Canada)
http://urbanopus.net/
34. Urban Us
Virtual accelerator
http://urban.us/
35. Valluri Technology Accelerators
Bangalore (India)
http://www.vallurita.com/smart-cities.html
Get updates on new books & discounts
We respect your privacy. Unsubscribe at any time.
Privacy Policy
First and foremost, this website do NOT use cookies. At futurecitiesbook.com, we respect your privacy, period.Log FilesLike any other Web sites under Google Analytics, futurecitiesbook.com makes use of log files. The information inside the log files includes internet protocol ( IP ) addresses, type of browser, Internet Service Provider ( ISP ), date/time stamp, referring/exit pages, and number of clicks to analyze trends, administer the site, track user's movement around the site, and gather demographic information.These information are NOT linked to any information that is personally identifiable.If you require any more information or have any questions about our privacy policy, please feel free to contact us by email at hello [at] futurecitiesbook.com.DoubleClick DART CookieGoogle's use of the DART cookie enables them (not us) to serve ads to users based on their visit to Web sites on the Internet, including our website. Users may opt-out of the use of the DART cookie by visiting the Google ad and content network privacy policy at the following URL - http://www.google.com/privacy_ads.htmlIf you wish to disable cookies, you may do so through your individual browser options. More detailed information about cookie management with specific web browsers can be found at the browsers' respective websites.That's all. We don't need a long privacy policy because we hate spam as much as you do. If you require any more information or have any questions about our privacy policy, please feel free to contact us by email at privacy [at] seahorse.press